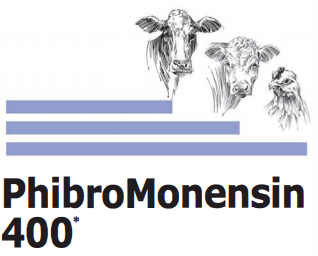 400 g/kg Monensin (as monensin sodium)
IMPORTANT:
To ensure homogeneity, thoroughly mix Phibro Monesin 400 into an intermediate premix (e.g. 25 the intermediate into the finished feed. Do not feed the recommended daily dosage of Phibro Monensin 400 in less than 1.0 kg kg) and add of supplement. If supplement is to be used at rates different than 1.0 kg / animal/ day, the quantity of Phibro Monensin 400 should be adjusted Amount of monensin (mg/animal/day) x 1 = Amount of Phibro Monensin 400 to be added to tonne of feed according to the formula as follows: Amount of feed (kg/animal/day) 400
Note: Do not feed a supplement containing more than 360 mg monensin/kg supplement.
DIRECTIONS FOR USE
PRECAUTIONS:
DO NOT USE Phibro Monesin 400 in goats in producing milk that may be used or processed human consumption.
DO NOT USE In chickens producing eggs for human consumption
CONTRAINDICATIONS:
Dogs, horses or other equines must not be allowed access to feeds containing Phibro Monensin 400. Ingestion by dogs and horses may be fatal.
PhibroMonesin 400 must be thoroughly mixed in the feed to assure even distribution. It is recommended that the required quantity of Phibro Monesin 400 is pre-blended with 10-20 kg of ground cereal before adding to the total mix.
PRECAUTIONS:
The recommended levels of Phibro Monensin 400 must not be exceeded. High levels may cause decreased feed intake, poor growth, diarrhoea and death. Responses to Phibro Monesin 400 are unlikely if the nutrient intake is severely restricted. Feeding Phibro Monesin 400 to lactating cows may result in decreased milk fat percentage but there is no effect on total fat yield. Tiamulin should not be administered in poultry when Phibro Monensin 400 is being fed in the ration – severe growth depression or death may occur.
DOSAGE & ADMINISTRATION:
FOR ORAL ADMINISTRATION IN FEED:
THE REQUIRED AMOUNT OF Phibro Monensin 400 MUST BE THROUGHLY MIXED IN FEED BEFORE
ACCORDING TO THE INSTRUCTIONS.
MIXING DIRECTIONS (ALL SPECIES)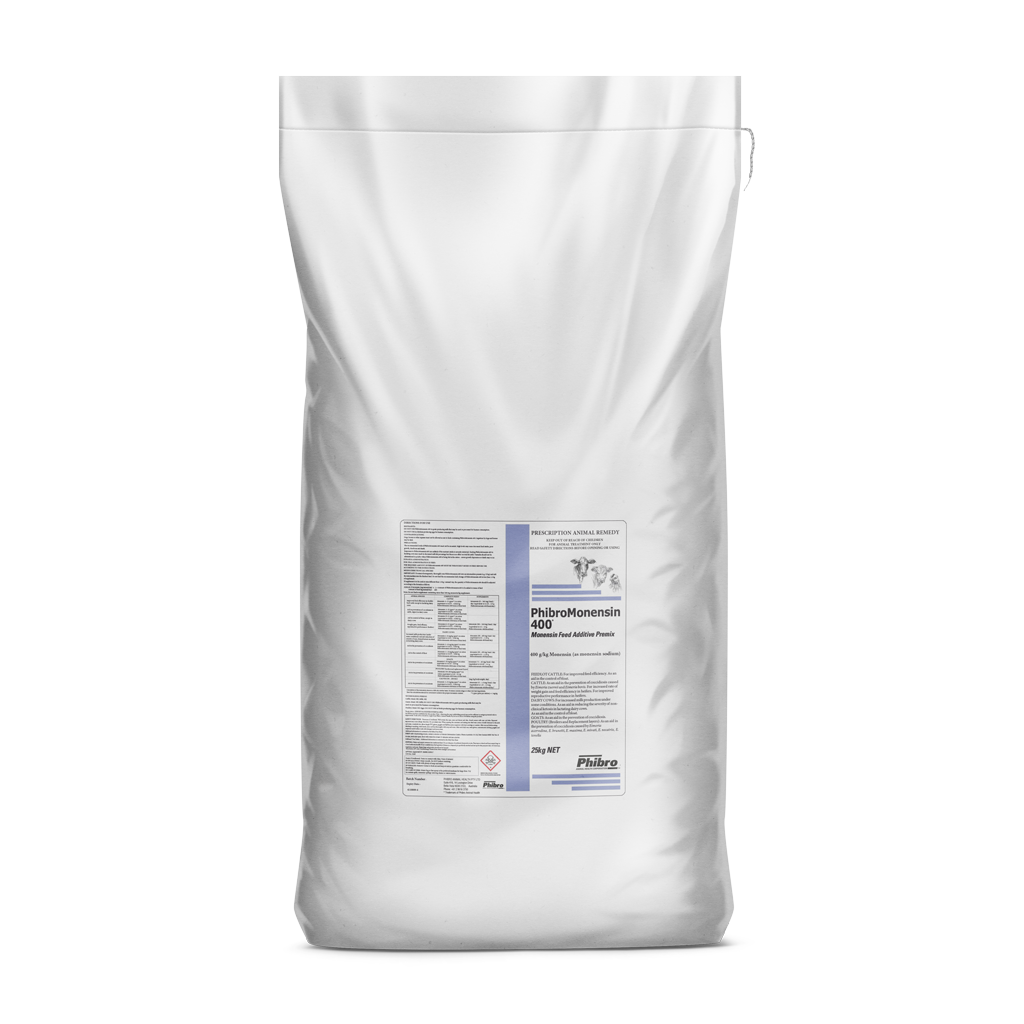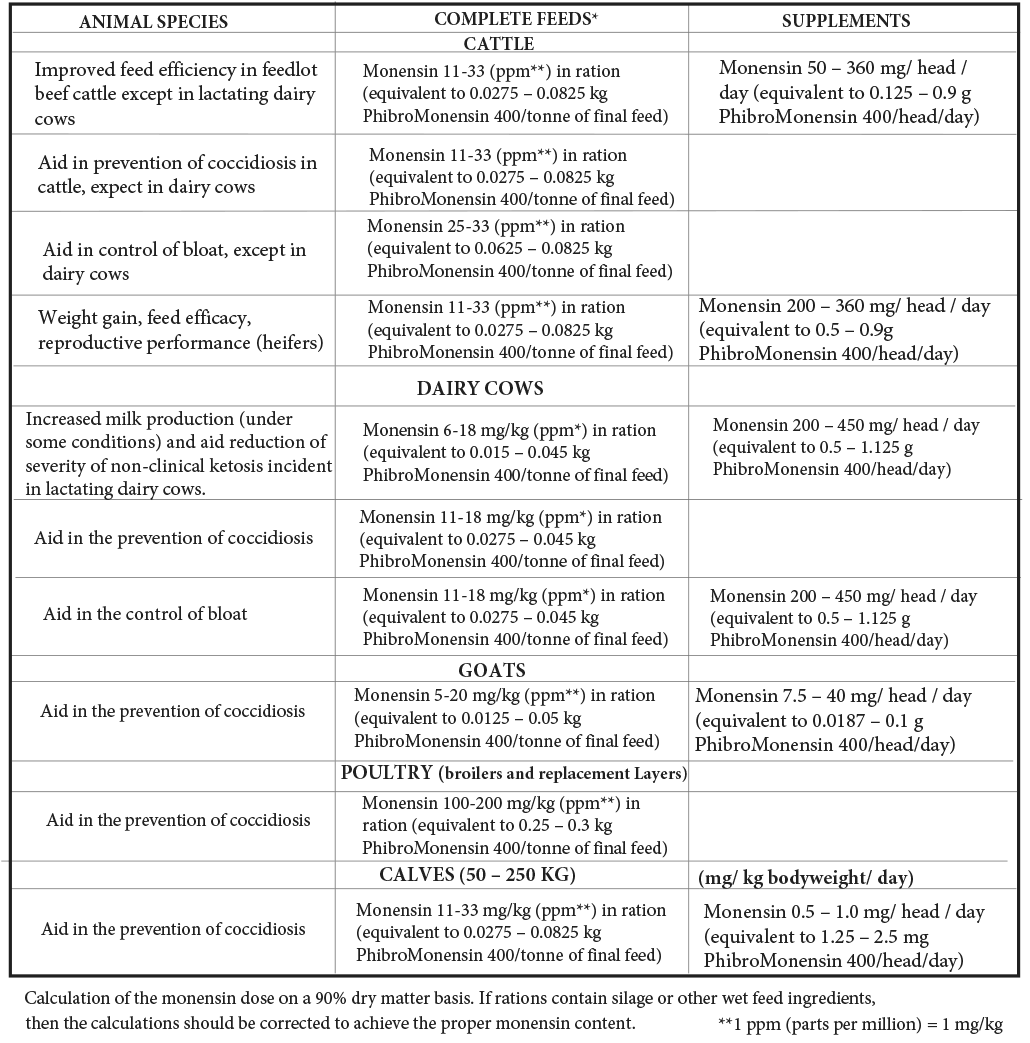 ---
SAFETY DIRECTIONS:
Poisonous if swallowed. Will irritate the eyes, nose and throat and skin. Avoid contact with eyes and skin. Repeated exposure may cause allergic disorders. Do not inhale dust, When opening the container and mixing into feed wear cotton overalls buttoned to the neck and wrist, a washable hat, elbow-length PVC gloves, goggles and half face piece respirator with dust cartridge or canister. After use and before eating, drinking or smoking, wash hands, arms and face thoroughly with soap and water. After each day's use, wash gloves, contaminated clothing, goggles and respirator and if rubber wash with detergent and warm water. Additional information is contained in the Safety Data Sheet
FIRST AID: If poisoning occurs, contact a doctor or Poisons Information Centre. Phone Australia 131126, New Zealand 0800 764 766. If in eyes, hold eyes open, flood with water for at least 15 minutes and see a doctor.

WITHHOLDING PERIOD
Cattle: Meat: Nil. Milk: Nil.
Goats: Meat: Nil. Milk: DO NOT USE PhibroMonensin 400 in goats producing milk that may used or processed for human consumption.
Poultry: Meat: Nil. Eggs: DO NOT USE in birds producing eggs for human consumption. 
Trade Advise : EXPORT SLAUGHTER INTERVAL (ESI): An ESI has not been established for this product. Note – observing the meat withholding period may not be sufficient to mitigate potential risks to export trade. Trade advice should be sought from Phibro Animal Health Pty Ltd on 02 9616 3750 before using the product
Addional User Safety : Additional Information is contained in the Safty Data Sheet
DISPOSAL: Shake and empty contents into medicated feed, Do not dispose of undiluted chemicals on site. Puncture or shred and bury empty bags in a local authority landfill. If not available bury the bag below 500mm in a disposal pit specifically marked and set up for this purpose clear of waterways, vegetation and roots. Empty bags and product should not be burned. Store below 25°C (Air Conditioning). Protect from direct sunlight and moisture
To Learn More:
The success of your farm operation is directly related to the success of your animals. With Phibro as your partner, you can count on our portfolio of Monensin products to help you achieve the results you want.
Talk with a Phibro team member.
Contact Us Now!