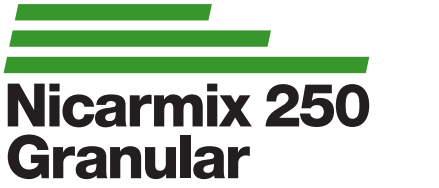 Feed Additive Premix
250 g/kg Nicarbazin
For use as an aid in the prevention of coccidiosis caused by Eimeria spp. in broiler chickens.
DIRECTIONS FOR USE:
RESTRAINTS:
DO NOT USE in birds which are producing or may in the future produce eggs or egg products for human consumption.
CONTRAINDICATIONS:
This product is contraindicated for use in broilers over 28 days of age as losses through heat stress may occur
DOSAGE AND ADMINISTRATION

FOR USE ONLY in broiler chickens.
MIXING DIRECTIONS

IMPORTANT: MUST BE THROUGHLY MIXED IN FEED BEFORE USE. Thoroughly mix 500 g NICARMIX 250 GRANULAR FEED ADDITIVE PREMIX in 1 tonne of feed to provide 125 g activity per tonne of complete feed.
Thoroughly mix the NICARMIX 250 GRANULAR FEED ADDITIVE PREMIX with a small quantity of finished feed (20 – 50 kg) before incorporation into the bulk feed is recommended
FEEDING DIRECTIONS

Broilers: Feed continuously as the only ration up to 28 days of age.
WITHHOLDING PERIODS
MEAT: REMOVE ALL MEDICATED FEED 1 day before slaughter for human consumption
EGGS: DO NOT USE in birds which are producing or may in the future produce eggs or egg products for human consumption. The withholding period stated on this label applies only to product destined for the Australian domestic market. Some export markets apply different standards. If necessary, details of overseas standards should be obtained prior to use of this product.
SAFETY DIRECTIONS
May irritate the eyes, nose and throat. Avoid contact with eyes. Do not inhale dust. When opening the container and mixing wear a disposable dust mask covering the mouth and nose if dust is presented. Wash hands after use.

For further information consult the product Safety Data Sheet (SDS).
FIRST AID
If poisoning occurs, contact a doctor or Poisons Information Centre.
Phone Australia 131126 / New Zealand 0800 POISON (0800 764766)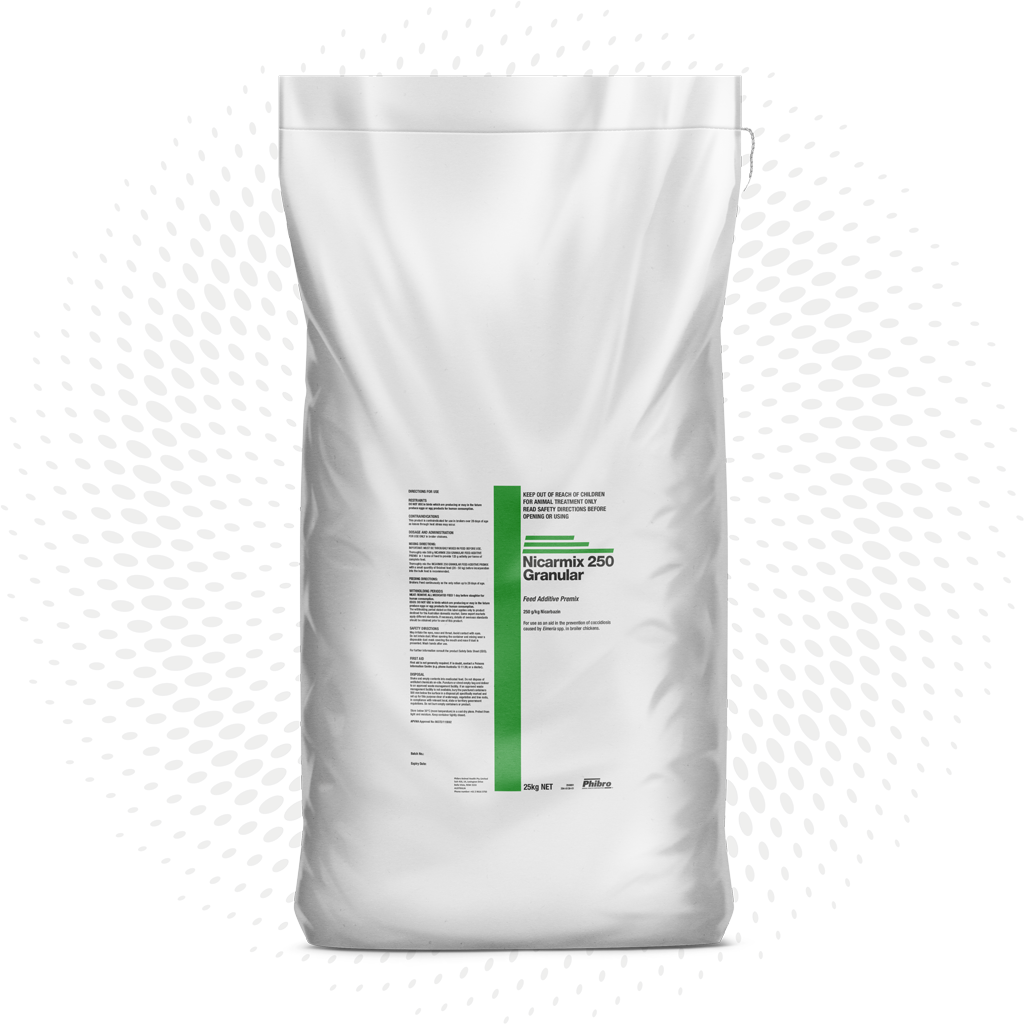 ---
DISPOSAL
Shake and empty contents into medicated feed. Do not dispose of undiluted chemicals on-site. Puncture or shred empty bag and deliver to an approved waste management facility. If an approved waste management facility is not available, bury the punctured containers 500 mm below the surface in a disposal pit specifically marked and set up for this purpose clear of waterways, vegetation and tree roots, in compliance with relevant local, state or territory government regulations. Do not burn empty containers or product.
Store below 30°C (room temperature) in a cool dry place. Protect from light and moisture. Keep container tightly closed.
APVMA Approval No: 86372/115592
KEEP OUT OF REACH OF CHILDREN
FOR ANIMAL TREATMENT ONLY
READ SAFETY DIRECTIONS BEFORE
OPENING OR USING
To Learn More:
The success of your farm operation is directly related to the success of your animals. With Phibro as your partner, you can count on our portfolio of Nicarmix 250 products to help you achieve the results you want.
Talk with a Phibro team member.
Contact Us Now!