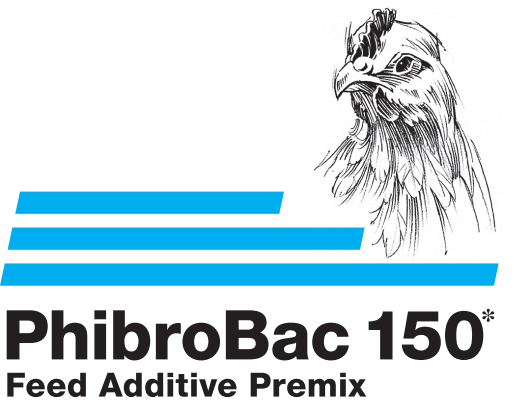 Active Constituent: Zinc bacitracin 150 g/kg
ADDITIONAL MEASURES TO PREVENT NECROTIC ENTERITIS
Necrotic enteritis (NE) in poultry is a multifactorial disease. Effective control of coccidiosis is important in preventing NE. Other preventive measures include avoidance of overstocking and other stresses, maintenance of clean feed and water sources and dry litter, and avoiding excessive levels of fishmeal, wheat and barley in poultry diets. Veterinary advice should be sought in developing a comprehensive NE prevention strategy.
DIRECTIONS FOR USE:
PRECAUTIONS:
Any variation by the prescribing veterinarian to the approved dose, frequency, duration, route, disease or target species may require extending the approved withholding period.
DOSAGE AND ADMINISTRATION
Treatment of Necrotic Enteritis: Thoroughly mix 1.33kg of PhibroBac 150 per tonne of feed to produce a concentration of 200g (bacitracin) /t in the finished feed. Feed for 5-7 days.
Aid in the Prevention of Necrotic Enteritis: Thoroughly mix 267g of PhibroBac 150 per tonne of feed to produce a concentration of 40g (bacitracin) /t in the finished feed. Medicated feed should be fed to poultry during the period when they are at most risk of necrotic enteritis, usually between 2 and 12 weeks.
PhibroBac 150 must be thoroughly mixed in the feed to assure even distribution. It is recommended that the required quantity of PhibroBac 150 is pre-blended with 10-20 kg of ground cereal before adding to the total mix.
DISPOSAL STATEMENT
Shake and empty contents into medicated feed. Do not dispose of undiluted chemicals on-site. Shred and bury empty container/bag in a local authority landfill. If no landfill is available, bury the container/bag below 500 mm in a disposal pit specifically marked and set up for this purpose clear of waterways. vegetation and roots. Empty container/bag and left-over product should not be burned.
APVMA Approval No. 58388/25/0606
STORE BELOW 30°C (Room Temperature). Protect from light and moisture.
---
SAFETY DIRECTIONS:
KEEP OUT OF REACH OF CHILDREN
READ SAFETY DIRECTIONS BEFORE OPENING OR USING
FOR ANIMAL TREATMENT ONLY
Will irritate the eyes, nose and throat. Avoid contact with eyes and skin. Repeated exposure may cause allergic disorders. Do not inhale dust. When opening the container and mixing into feed wear cotton overalls buttoned to the neck and wrist and a washable hat, elbow-length PVC gloves, goggles and disposable dust mask. If product in eyes, wash it out immediately with water. After each day's use, wash gloves, goggles and contaminated clothing.
FIRST AID: If poisoning occurs, contact a doctor or Poisons Information Phone Australia 131126, New Zealand 0800 POISON (0800 764 766) Centre. Additional information is listed in the Safety Data Sheet.
IF SWALLOWED: Rinse mouth. Do NOT induce vomiting.
IF IN EYES: Hold eyes open, flush with water for at least 15 minutes. If eye irritation persists: seek medical attention.
IF ON SKIN: Wash with plenty of soap and water. If skin irritation occurs: Get medical advice.
IN CASE OF FIRE: Not combustible. Use extinguishing media suited to burning materials.
To Learn More:
The success of your farm operation is directly related to the success of your animals. With Phibro as your partner, you can count on our portfolio of PhibroBac150 products to help you achieve the results you want.
Talk with a Phibro team member.
Contact Us Now!