FOR ANIMAL CONSUMPTION ONLY
An Advanced Formulation of Biologically Active Ingredients in a Premix for Livestock
PRODUCT DESCRIPTION:
OmniGen AF includes selectively sourced microbial ingredients, vitamins and aluminosilicates, proven to provide specific biological activities. When fed consistently, OmniGen AF helps improve immune function, which can lead to fewer infectious and metabolic diseases in your herd.
Ingredients:
Hydrated aluminum silicate, silicon dioxide, yeast extract, mineral oil and a microtracer to help determine OmniGen-AF presence and concentration in feed.
Directions for Use:
Restraints:
Dairy Cows: Feed daily at 10g/100kg bodyweight/day.
Dairy Calves & Heifers:Feed 5g/50kg bodyweight/day. This product does not contain restricted animal material.
Safety Directions:
Avoid contact with eyes and skin. Do not inhale dust.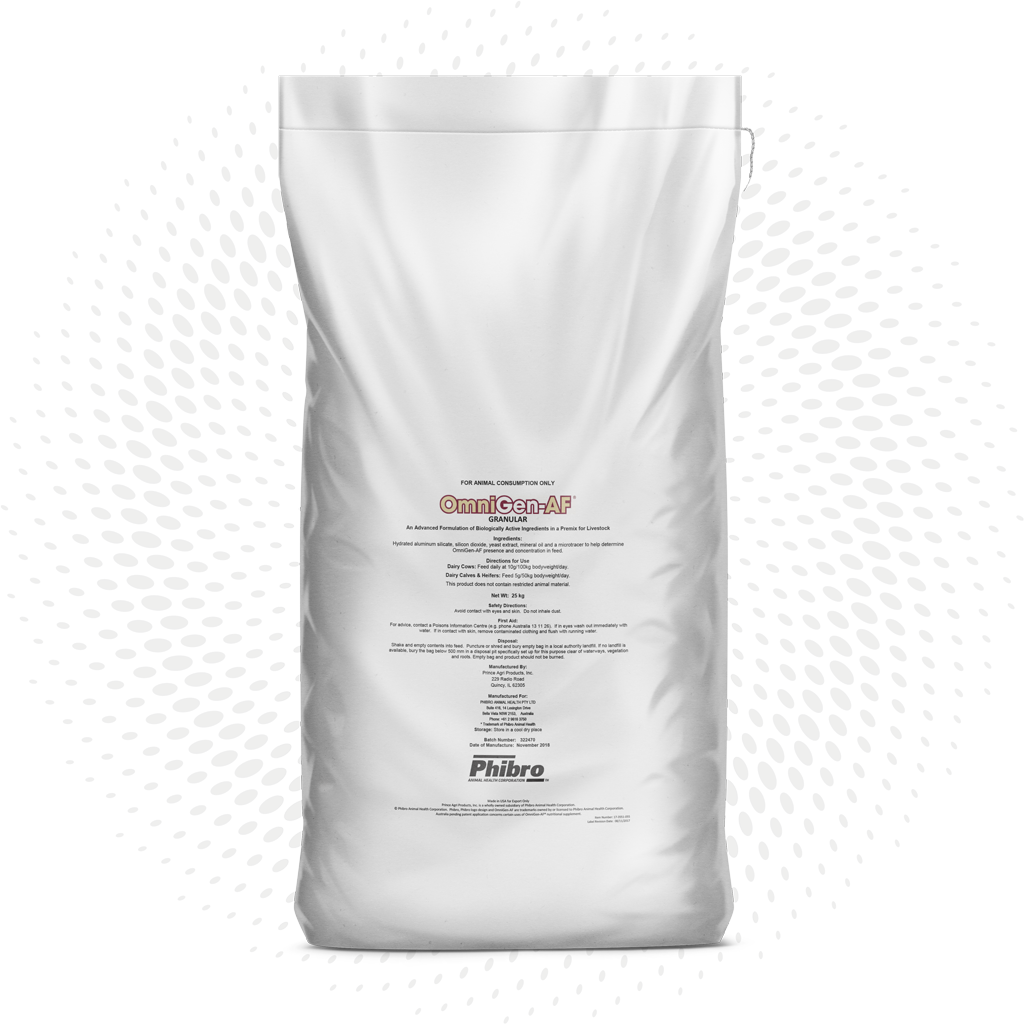 ---
First Aid:
For advice, contact a Poisons Information Centre (e.g. phone Australia 13 11 26). If in eyes wash out immediately with water. If in contact with skin, remove contaminated clothing and flush with running water.
Disposal:
Shake and empty contents into feed. Puncture or shred and bury empty bag in a local authority landfill. If no landfill is available, bury the bag below 500 mm in a disposal pit specifically set up for this purpose clear of waterways, vegetation and roots. Empty bag and product should not be burned.
Manufactured By:
Prince Agri Products, Inc.
229 Radio Road
Quincy, IL 62305
To Learn More:
The success of your farm operation is directly related to the success of your animals. With Phibro as your partner, you can count on our portfolio of Omnigen products to help you achieve the results you want.
Talk with a Phibro team member.
Learn More
Contact Us Now!