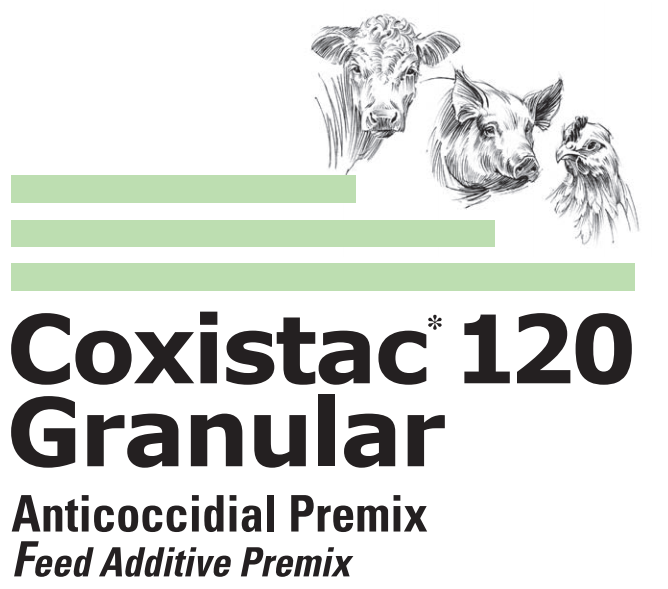 120g/kg SALINOMYCIN SODIUM equivalent to 116.6g/kg Salinomycin
PRODUCT DESCRIPTION
For the prevention of coccidiosis caused by Eimeria acervulina, E. brunetti, E. maxima, E. mivati, E. necatrix and E. tenella in broiler chickens and in replacement pullets intended for use as caged layers.
DIRECTIONS FOR USE
Do not exceed recommended use levels.
This product must not be used for growth promotion in ruminants intended for human consumption.
Do not feed to horses or any other animal not included in the label claim.

Salinomycin can cause cardiac and muscular paralysis and conduction defects. Some species, such as horses and dogs, are particularly susceptible. Deaths from salinomycin may occur in horses and dogs.
Do not feed to animals receiving tiamulin (eg. Dynamutilin, Tiamutin).
Tiamulin inhibits biotransformation in the liver, thus stopping detoxification. Other drugs, especially antibiotics such as erythromycin and tylan (macrolides) and lincomycin and clindamycin (lincosamides), have this property. Delaying elimination of salinomycin may necessitate a withholding period.
Care must be exercised when feeding concurrently with other antimicrobials.
COXISTAC 120 GRANULAR ANTICOCCIDAL PREMIX Feed Additive Premix must be thoroughly mixed into the feed. It is recommended that the appropriate amount of premix be extended to 10 kg of ground meal before adding gradually to the feed blend.
POULTRY –
Thoroughly mix 500 g of COXISTAC 120 GRANULAR ANTICOCCIDAL PREMIX Feed Additive Premix to each tonne of chicken feed. This produces a salinomycin sodium level of 60g/tonne in the finished feed which should be fed continuously as the sole ration.
PIGS –
Thoroughly mix 210g of COXISTAC 120 GRANULAR ANTICOCCIDAL PREMIX Feed Additive Premix to each tonne of complete pig grower/finisher feed. This provides 25g/tonne of salinomycin sodium in feed.
CATTLE –
Thoroughly mix 125g of COXISTAC 120 GRANULAR ANTICOCCIDIAL PREMIX to each tonne of cattle feed. This provides 15g/tonne of salinomycin sodium in feed.

It is an offence for users of this product to cause residues exceeding the relevant MRL in the New Zealand (Maximum Residues Limits of Agricultural Compounds) Food Standards.

Store below 25°C (air conditioning) in a dry place. APVMA Approval No: 63230/25/0109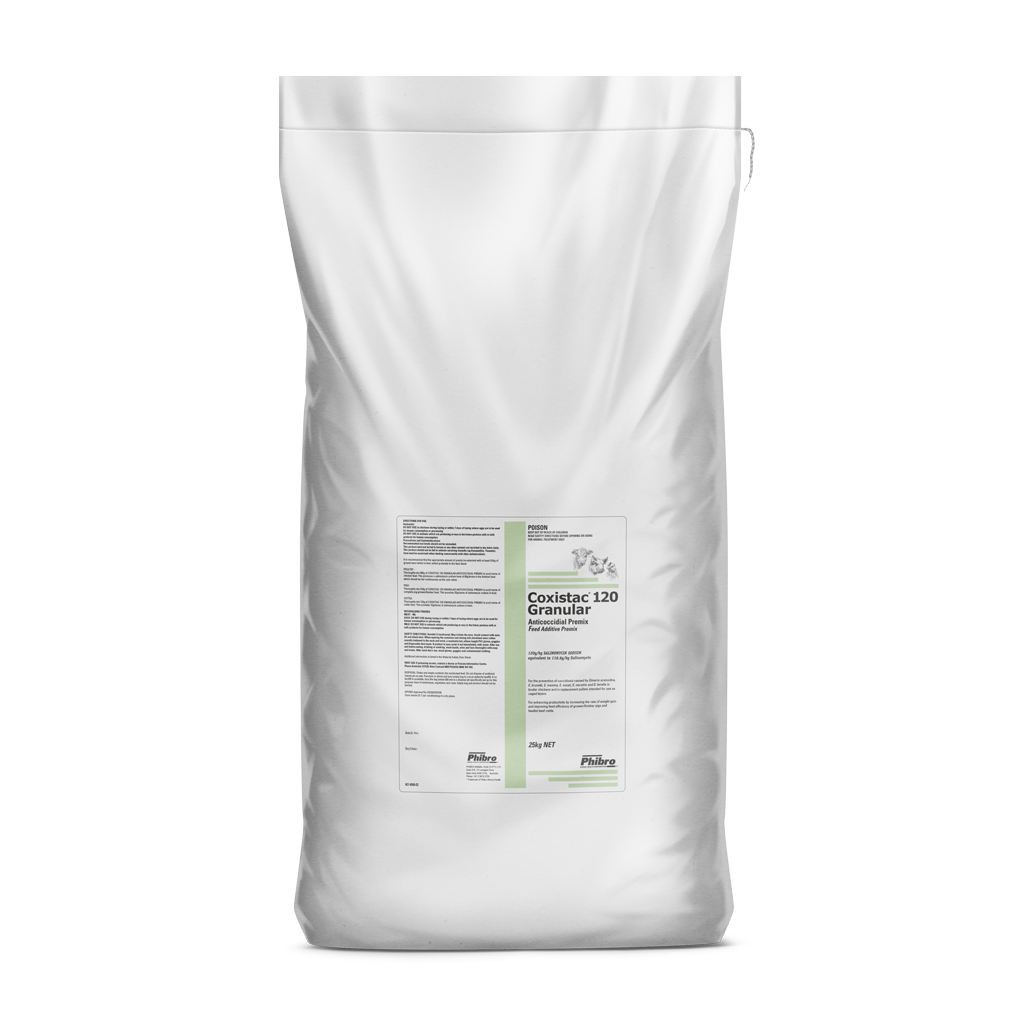 ---
WITHHOLDING PERIODS:
MEAT – NIL
EGGS: EGGS FROM TREATED BIRDS MUST NOT BE SOLD FOR HUMAN CONSUPTION FOR 7 DAYS FOLLOWING CESSATION OF LAST TREATMENT.
DISPOSAL:
Shake and empty contents into medicated feed. Do not dispose of undiluted chemicals on-site. Puncture or shred and bury empty bag in a local authority landfill. If no landfill is available, bury the bag below 500 mm in a disposal pit specifically set up for this purpose clear of waterways, vegetation and roots. Empty bag and product should not be burned.
Marketed in Australia and New Zealand by:
Phibro Animal Health Pty Ltd
Unit1/7-10 Denoci Close, Wetherill Park NSW 2164, Australia
SAFETY DIRECTIONS:
Poisonous if swallowed. May irritate the eyes, nose and throat and skin. Avoid contact with eyes and skin. Repeated exposure may cause allergic disorders. Do no inhale dust. When opening the container and mixing into feed, wear cotton overalls buttoned to the neck and wrist, a washable hat, elbow-length PVC gloves, goggles and half face piece respirator with dust cartridge or canister. If the product gets in your eyes, wash it out immediately with water. After use and before eating, drinking or smoking, wash hands, arms and face thoroughly with soap and water. After each day's use, wash gloves, goggles and contaminated clothing.
Harmful if swallowed; Harmful in contact with skin.
IF SWALLOWED: Rinse mounth. DO NOT induce vomiting.
IF ON SKIN: Wash with plenty of soap and water.
Not combustible. Use extinguishing media suited to burning materials.
FIRST AID: If poisoning occurs, contact a doctor or Poisons Information Centre. Phone Australia 131126; New Zealand 0800 POISON (0800 764 766).
Store in a well-ventilated place in a closed container.
By law the user must take due care, obtaining expert advice when necessary, to avoid unnecessary pain and distress.
It is an offence for users of this product to cause residues exceeding the relevant MRL.
Australia's trade advice and Export Slaughter Interval information do not apply in New Zealand.
Registered pursuant to the ACVM Act 1997, No. A09595.
See www.foodsafety.govt.nz for registration conditions.
New Zealand Agent
David Marks
PO Box 104095
Lincoln North
Auckland 0654
To Learn More:
The success of your farm operation is directly related to the success of your animals. With Phibro as your partner, you can count on our portfolio of Coxistac products to help you achieve the results you want.
Talk with a Phibro team member.
Learn More
Contact Us Now!