FOR ANIMAL CONSUMPTION ONLY
Anionic Mineral Supplement for Non-Lactating Dairy Cattle
PRODUCT DESCRIPTION:
Designed to help optimise the health and performance of transitions cows, both pre- and post- calving, the Animate® feeding programme combines strategic diet formulation with the use of a proprietary nutritional supplement, Animate®.
A unique and patented anionic mineral supplement, Animate® is a homogeneous and palatable product which contains the three important macro minerals (chloride, sulphur and magnesium), necessary for proper mineral formulation of negative DCAD diets.
INGREDIENTS:
Ammonium Chloride, Magnesium Sulphate, Calcium Sulphate, Corn Distillers Dried Grains with Soluble (Carrier) and Cane Molasses.
Nutritional supplement product for inclusion in animal's feed. Product has no therapeutic effect.
Guaranteed Analysis: per 100g
Crude Protein (min)

32.0 g

Equivalent crude protein
from non-protein Nitrogen (max)


25.0 g

Calcium

1.0-1.5 g

Calcium

1.0-1.5 g

Magnesium (min)

4.0 g

Sulphur (min)

4.0 g

Chloride (min)

11.5 g
Directions: for Use
Dairy Cattle: Feed a minimum 21 days prior to calving at a rate between 0.55 to 0.70 kg per head daily depending on the desired level of negative Dietary Cation Anion Difference (DCAD) of the diet. Feed continuously up to calving.
Caution: Use only as directed.
Storage: Store in a cool dry place.
Manufactured By: Prince Agri Products, Inc. 229 Radio Road Quincy, IL 62305 U.S.
Manufactured for: PHIBRO ANIMAL HEALTH PTY LTD
Suite 416, 14 Lexington Drive
Bella Vista NSW 2153, Australia
Phone: +61 2 9616 3750 * Trademark of Phibro Animal Health
This product does not contain restricted animal material.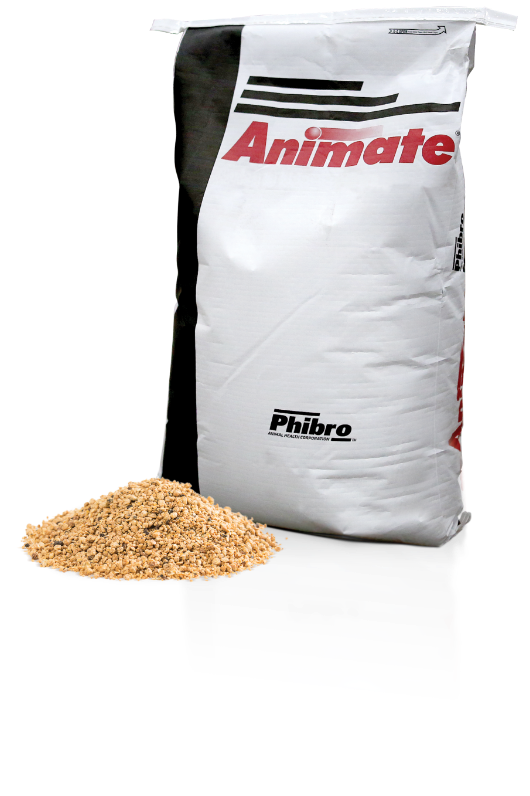 ---
To Learn More:
The success of your farm operation is directly related to the success of your animals. With Phibro as your partner, you can count on our portfolio of Animate products to help you achieve the results you want.
Talk with a Phibro team member.
Learn More
Contact Us Now!