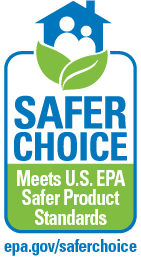 EPA Safer Choice Program
History of Partnership: Since 2003, Phibro Biotechnics has partnered with the United States Environmental Protection Agency (EPA) Safer Choice Program to verify Munox is an environmentally preferred product that is safer for human health and the environment. For three consecutive years (2015-2017), Phibro Biotechnics was named EPA Safer Choice Partner of the Year.
Mission Alignment: The purpose behind Munox is to reduce harmful chemical usage and create a safer, more sustainable product, which aligns well with the mission of the EPA Safer Choice Program.
Customer Safety Assurance: Through our participation in the EPA Safer Choice Program, consumers can be assured: Munox is a safer option for their families, workplaces, pets and our planet.
CA SB-258 Compliance
Please see ingredient disclosure information below for Munox, demonstrating its compliance with CA SB-258, a Senate Bill passed by the State of California known as the Cleaning Products Right to Know Act of 2017.
For additional information, please contact us at 1-800-553-7785.
Intentionally Added ingredients
| | | | |
| --- | --- | --- | --- |
| Ingredients | CASRN | Functional Purpose | Appearance on a List of Concern |
| Water | 7732-18-5 | Diluent | |
| Pseudomonas culture | Not Available | Active | |
| Nitric acid sodium salt | 7631-99-4 | Stabilizer | |
| Sodium thiosulfate pentahydrate | 10102-17-7 | De-Chlorinator | |
| Ammonium dihydrogen phosphate | 7722-76-1 | Stabilizer | |
| FD&C Blue #1 | 3844-45-9 | Colorant | (EU Respiratory Sensitizers) |