Mineral Nutrition
Good nutrition is as important for animals as it is for people. Our deep understanding of how premium quality minerals are processed is the foundation to our decades-long tradition of superior quality and service. It enables us to customize products to ensure they deliver optimal mineral nutritional balance in livestock diets.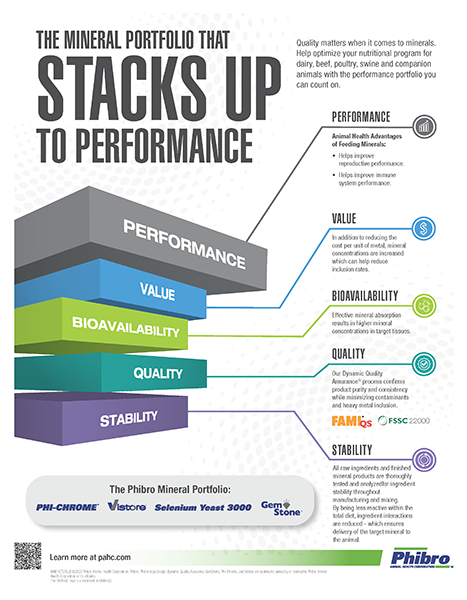 Our diverse mineral portfolio includes a wide array of trace elements comprised of various forms of manganese, copper, zinc, cobalt, iodine, iron, selenium, magnesium, sulfur, potassium, phosphorus, calcium, sodium and chlorine. We have expanded our offering to include organic trace minerals, selenium yeast, and chromium.
Trace Minerals
Macro Minerals/Other Additives
Amino Acids
Colorants
Flow Agents
Organic Selenium Supplement
Organic Trace Minerals
Premixes
Vitamins
Click on the logos below to learn more about the following products:



Organic chromium propionate and chromium tripicolinate.



Organic trace minerals (Cu, Fe, Mn, Zn)



Hydroxychloride trace minerals (Cu, Mn, Zn)
Safe, Consistent, Quality and Effective Minerals for your Animals
At Phibro, product quality is not simply a determination of ingredient testing; it is our promise to provide the people, technologies and processes necessary to produce the solutions you need. Our Dynamic Quality Assurance® (DQA®) program integrates efficacy, through material science and biological research, with safety, through product quality and certified manufacturing systems.