Why Chromium?
Carcass Quality: When animals are fed chromium, an increase in amino acid uptake occurs in the muscle cells, potentially increasing total protein deposition and indirectly affecting carcass quality.1
Metabolic Response: Chromium supplementation increases glucose clearance rates and insulin sensitivity, which is essential for maintaining normal metabolism of carbohydrates, proteins and lipids.2
Stress Response: Chromium demand increases during periods of stress, such as trauma, shipping/receiving, lactation or birthing. Chromium supplementation during these times has been reported to show improved performance during heat stress3,4, reduced respiratory symptoms and treatments5, and reduced cortisol levels6 for improved immune response.5,6,7
1. Pechova, 2007 | 2. Anderson, 2003 | 3. An-Qiang et al., 2009 | 4. Anderson, 1994 | 5. Bernhard et al., 2012 | 6. Chang and Mowat, 1992 | 7. Kegley et al., 2000
Why Phi-Chrome®?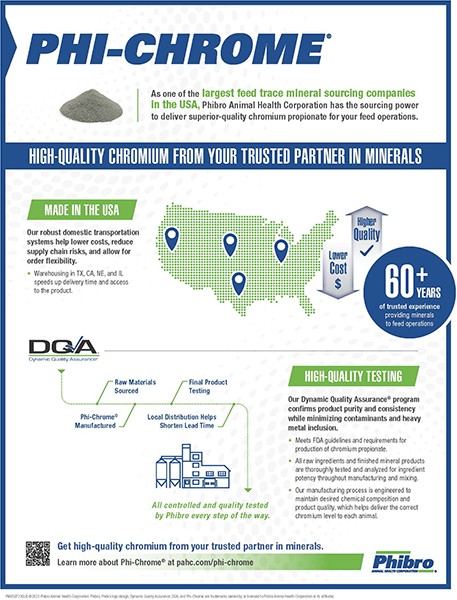 Phi-Chrome offers better bioavailability and absorption when compared to inorganic chromium sources. Both Phi-Chrome chromium propionate and Phi-Chrome chromium tripicolinate are available in 0.04% and 0.4% concentrations. High quality, consistent products offer several advantages:
Efficiency: Achieve desired animal health and performance outcomes with a product fed at low inclusion rates.
Improve Return on Investment (ROI)*: Better animal performance and production on a low inclusion, high return ingredient.
*Not a guarantee of performance.
With Phi-Chrome, customers can be assured they are receiving a safe, consistent, high-quality organic chromium supplement.
Propionate vs. Tripicolinate: What's the Difference?
Both Phi-Chrome chromium propionate and Phi-Chrome chromium tripicolinate are organic forms of chromium. Phi-Chrome chromium propionate is most valuable for its versatility. It is approved for multi-species use – namely: dairy, beef, swine, broilers and equine – and offers similar health and performance benefits across all species. However, Phi-Chrome chromium tripicolinate is approved for use in swine only.
Why Chromium Tripicolinate for Swine?
Research has demonstrated tripicolinate is the superior source of organic chromium when fed to swine. In chromium tissue absorption studies of the ovary and liver conducted by Lindemann et al., 2008, the data shows tripicolinate can achieve nearly 2x the concentration levels, compared to other chromium treatments.


a,b,c Means with different superscripts differ (P < 0.05); Lindemann et al., 2008
General Resources
Dairy Resources
Propionate Sell Sheet for Dairy | Dairy Brochure
Swine Resources
Tripicolinate Sell Sheet | Grow:Finish Pigs Brochure | Sow Brochure