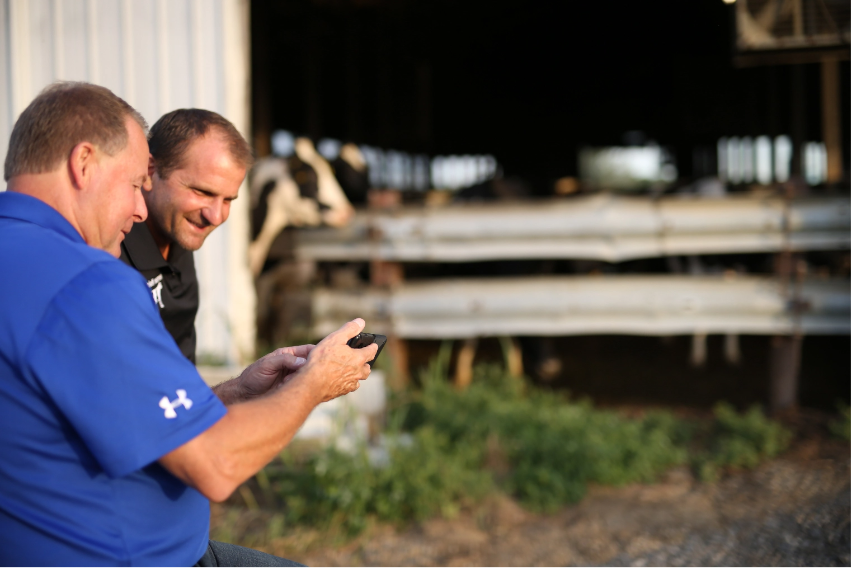 Dairy Services for Optimal Herd Health
As a dairy farmer, you work from dawn until dusk caring for your animals because you know proper care and attention to your herd is essential for healthy animals and key to the success of your dairy farm.
At Phibro, we're proud to partner with you and offer a broad portfolio of solutions backed by scientific research to enhance your cows' ability to thrive. Combined with our unparalleled support, we help you meet the highest standards of care for your animals.
Our Phibro representatives are well-trained dairy professionals passionate about helping you achieve your goals. They work closely with our seasoned team of dairy PhDs and DVMs and utilize our extensive network of university research partners on a regular basis, all in the interest of bringing you the very best in products, services and solutions for your dairy operation's needs.
Feeding Management Support
We utilize a variety of tools to help assess whether your cows are healthy and positioned to perform at their full potential. Our feed and herd management evaluations include periodic visits to your farm to check on feeding, feed management and herd management.
Time-Lapse Video Recording and Evaluation:
We use time-lapse video cameras to record and then analyze your herd's behavior and current feeding practices and monitor pen movements, water access, lying behavior, and more.
Total Mixed Ration (TMR) Analysis:
We utilize the services of NFTA-Certified third-party labs to perform total mixed ration (TMR) analysis. We will work with you and your nutritionist to ensure feeding and delivery accuracy.
Penn State Particle Separator Evaluation:
The Penn State Particle Separator provides a tool to quantitatively determine the content of the TMR, providing valuable insight into whether your cows are receiving the appropriate ratio of feed and particle size.
Forage Sampling for Molds and Mycotoxins:
Molds are found everywhere in the environment and can grow under a wide range of conditions—and they may also impact rumen microbial fermentation, reducing nutrient availability to your cows. Harmful mycotoxins can be produced from molds, resulting in diarrhea, poor breeding and lower milk yield. Our services include performing an analysis to detect the presence of mold and mycotoxin contamination and providing nutritional solutions to help minimize risk to your herd.
Water Analysis:
Periodic analysis of water quality ensures you are providing clean, safe water, which is critical to cow performance.
Transition Cow Support
Negative DCAD Diet Urine pH Testing:
Urine pH testing is conducted to ensure the prefresh diet is balanced for a fully acidified prepartum negative DCAD program, resulting in a urine pH range between 5.5 to 6.0. Strategic checks of urine pH help to support cow health and productivity through the transition period and into early lactation.
The easy-to-use Animate App captures data that can be used to help monitor and maximize prepartum transition cow performance. This critical data is expressed in tables and graphs that can be easily shared with the dairy's management team.
Blood Calcium Testing:
Our dairy technical team can perform blood sampling and calcium testing to detect subclinical hypocalcemia in prefresh cows. The incidence rate of subclinical hypocalcemia on a typical dairy operation is estimated to be 15 times greater than clinical milk fever, which can result in four times the economic loss (Oetzel, 2012).*
*Oetzel, Garrett R. 2012. An Update on Hypocalcemia on Dairy Farms.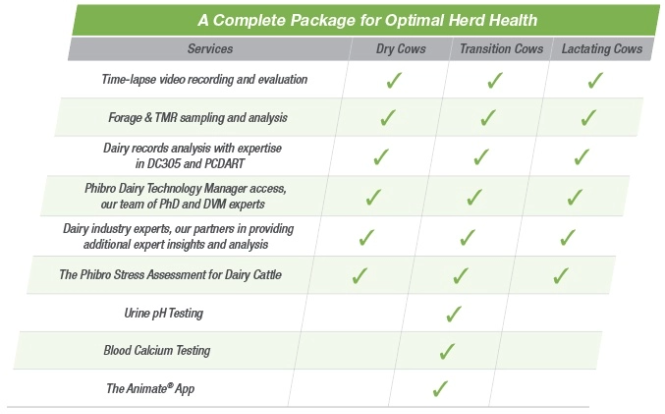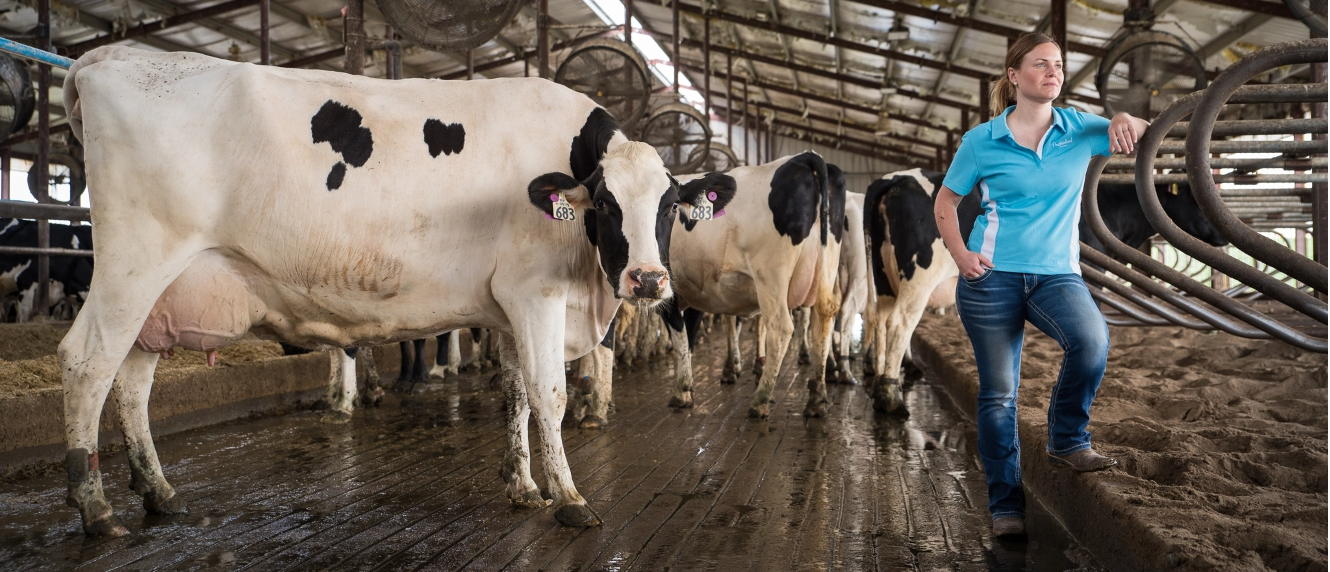 Daily Records Analysis
At Phibro, our sales and technical teams are trained to use your herd management software to help monitor and analyze trends in health, productivity and reproduction. Our team can help capture and report important data critical to decisions related to grouping, pen movements and more.
The Phibro Stress Assessment for Dairy Cattle
The Phibro Stress Assessment for Dairy Cattle is used to help identify the presence and level of stressors on the farm. There are many stressors that can affect dairy cattle. The stress assessment includes only those stressors that have been proven through research to negatively affect both immune function and dairy cattle health and/or performance.
The Core Insight Program has been specifically designed to provide insight to strengthen the core of your dairy. We believe that animal health and nutrition is optimized on dairy farms where purpose, vision and values are clear and where employees are engaged, aligned and equipped. The Core Insight Program helps ensure a strong dairy farm organization and a workforce that flourishes. Click
here
to learn more.
See the Phibro Difference
With Phibro as your trusted partner, you can count on the solutions and support you need to help achieve your farm and business goals.