Cellerate Yeast Solutions®
For: Beef Cattle, Dairy Cattle, Poultry, Swine - Available in: Mexico, United States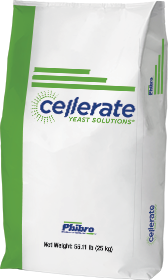 Cellerate Yeast Solutions® offer yeast-based products that help support critical gut health and help lay the foundation for better nutrient absorption. Backed by science, we are committed to providing quality that rises above the industry standard to deliver optimal results. When fed daily, Cellerate Yeast Solutions can help improve digestion for overall improved health and productivity.
Culture Classic: A double fermentation process takes the original formula of a classic yeast culture to the next level creating Culture Classic.
Culture Classic HD: Culture Classic HD is a high-density formula based on the original yeast culture, allowing a lower inclusion in the diet.
Culture Classic Plus: Culture Classic Plus is fortified to help enhance gut function, and provides benefits from yeast culture, yeast cell wall and live yeast.