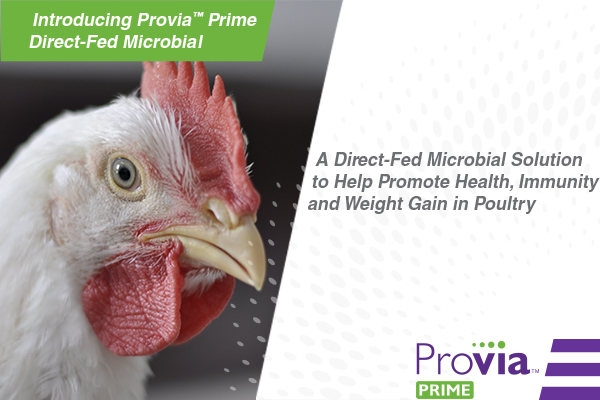 Provia Prime™
For: Poultry - Available in: Thailand, United States
Introducing Provia Prime™ Direct-Fed Microbial
A Direct-Fed Microbial to Help Promote Health, Immunity and Weight Gain in Poultry
A healthy microbiome can result in increased body weight and improved feed conversion. In addition, having a healthy microbiome may also lead to lower mortality rates and reduced lesions from pathogens such as Clostridium perfringens, E. coli and Salmonella in commercial poultry production.
Provia Prime™ is in a class of Bacillus-based Direct Fed Microbials (DFMs) that have been shown to promote beneficial gut bacteria, which can help improve immunity, foster gut health and act as natural growth promoters. It includes a patent-pending proprietary combination of four powerful probiotic strains of Bacillus subtillis, Bacillus licheniformis, Bacillus coagulans and Bacillus amyloliquefaciens. Together these four strains create a synergistic effect that encourage a higher population in the gut of "good bacteria," which can help support broiler health and increase yield.
The microbial strains in Provia Prime™ offer superb heat stability, a long shelf life, have no refrigeration requirements and have high viability in the gut with a high survivability rate against gastric acid and bile salts.