Manage your herd through HEAT stress
Beef cattle often experience stress caused by weaning, transport, grouping and adaptation. But the most prevalent stress is heat stress. If left unchecked, stress—especially heat stress—can negatively impact your cattle's health and your operation's profitability.
Fortunately, you can take important steps to help mitigate these effects, including feeding NutraGen nutritional specialty product as an all-natural feed additive.
What is the Cost of heat stress?
Heat stress occurs when a combination of ambient temperature, relative humidity and evaporation rate cause an increase in core body temperature, which can cause stress and lead to negative outcomes like:

These effects can lead to animals being on feed for longer periods of time to reach targeted slaughter weight, which can result in lower profitability for your operation.
Resources to Manage Heat Stress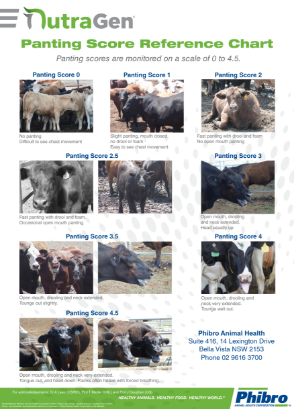 Panting Score Reference Chart
Often, panting is one of the most unmistakable signs of heat stress. By using our panting score reference chart, you can gauge the level of stress in your herd.
Combat Heat Stress Toolbox Mobile App*
Our online platform also helps assess thermal stress in your herd and logs characteristics of your farm and animals to generate a personalized report that help you manage heat stress.

 Initiates early conversations about management strategies
 Notifies of potential for heat stress on your operation
 Defines critical signs of heat stress in your cattle
Optimizing Your Daily Beef Operation
When fed consistently, NutraGen nutritional specialty product helps cows be and stay healthy and improve beef profitability. What makes it possible is a combination of all-natural components, scientifically evaluated and selected by Phibro, which together have a positive effect on the functioning of the immune system to help maintain immune competency, especially under stress circumstances, including heat stress. A healthy immune system can help improve both animal and herd performance by helping:
Animal Performance
Reduce disease incidences
Decrease morbidity and mortality
Achieve higher body weight at slaughter
Improve carcass traits
Herd Performance
Improve feed conversion
Deliver better resilience to environmental challenges
Let's Talk
Talk with a Phibro beef team member to see how NutraGen nutritional specialty product can support your herd's health and your operation's success.
Contact Us