Effects of Quillaja and Yucca Saponin on Performance, Clostridium Counts and Salmonella Incidence
Trials identify how feeding Magni-Phi helps support the specific immune response for pathogens.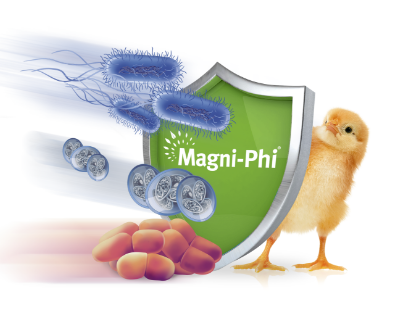 Four floor pen trials were recently conducted to gauge the effectiveness of a Quillaja and Yucca combination product (QY) on the growth performance of broiler chickens reared in a high-disease environment. QY was administered in feed at 0, 250 and 500 ppm for 42 days, and data was evaluated for performance and mortality at 21 and 42 days of age, along with intestinal and fecal sampling. Trial results demonstrated that QY produced significant linear improvements in both performance and mortality:
At both 21 and 42 days, significant (P < 0.001) linear reductions in numbers of fecal Clostridia
The percentage of birds harboring Salmonella was reduced
THE FINDINGS:
In addition to improving bird performance and mortality, results showed that Magni-Phi® (QY) may reduce the levels of important bacteria that adversely affect bird performance and influence the safety and acceptability of poultry meat products.
Source: K.W. Bafundo, I. Duerr, J.L. McNaughton and A.B. Johnson. 2021. The Effects of a Quillaja/Yucca Saponin Combination on Performance, Clostridium perfringens Counts and Percentage of Salmonella Positive Broiler Chickens. EC Veterinary Science 6.3 (2021):40-45. ECVE-06-00371.pdf (ecronicon.com)